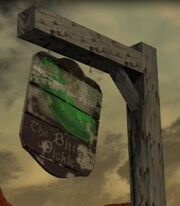 The Bitter Pickle is a unique area south of Aughundell that is patrolled by Alcohol Elementals and Alcohol Ghosts. The ghosts and, to a lesser degree, golems in this area drop bottle caps, a requirement for the epic quest Collect All The Bitter Pickle Bottle Caps.
The tale of the Bitter Pickle is a sad one. In its hey-day, "the Pickle" was a thriving pub, popular with visitors and renowned for it's friendly atmosphere, good food, and quantity of beverages on offer. The small farm kepy by the Pickle owners easily catered for customers, ensuring a steady supply of fresh food for the kitchens.
The arrival of the Withered Aegis in Istaria quickly destroyed this ideallic location. Perhaps frustrated by their inability to defeat Aughundell, the Withered Aegis swiftly overran the undefended establishment. There is no record of the battle that took places, but wiser heads have speculated that the horror inflicted by the Withered Aegis on the poor workers at the Pickle must have been truly devastating. It left behind a twisted landscape full of Ghosts and Elementals, bent on destroying any who came within reach.
Community content is available under
CC-BY-SA
unless otherwise noted.