Dyes crafted by Alchemists using the Alchemy skill with a Mortar and Pestle on a Millstone. They come as component used for color techniques and as dye kits which can be used to color and recolor existing items. Armor and Scale Dyes are used to color armor, claws and scales, Weapon and Tool Dyes used to color claws, tools and weapons. Alchemical Dyes get applied pre creation. Dye kits get applied per 'drag and drop' post creation.

Dye Formulas
Edit
Required skill is Alchemy
Dyed Armor
Edit
The colors vary on type of armor and look little different on cargo, plate or cloth armor.
| | | | | |
| --- | --- | --- | --- | --- |
| Antique Blue | Antique Gold | Antique Green | Antique Obsidian | Antique Red |
| Antique Silver | Black | Blood | Blue | Brown |
| Burnt Copper | Copper | Dark Blue | Dark Green | Dark Khaki |
| Dark Purple | Dark Steel Blue | Essence | Garnet | Gold |
| Green | Jasper | Khaki | Lava | Light Blue |
| Light Copper | Light Green | Light Khaki | Light Purple | Light Red |
| Light Steel Blue | Moonlight | Obsidian | Platinum | Purple |
| Radiant | Red | Silver | Steel Blue | Turquoise |
| White | | | | |
Dyed Scales
Edit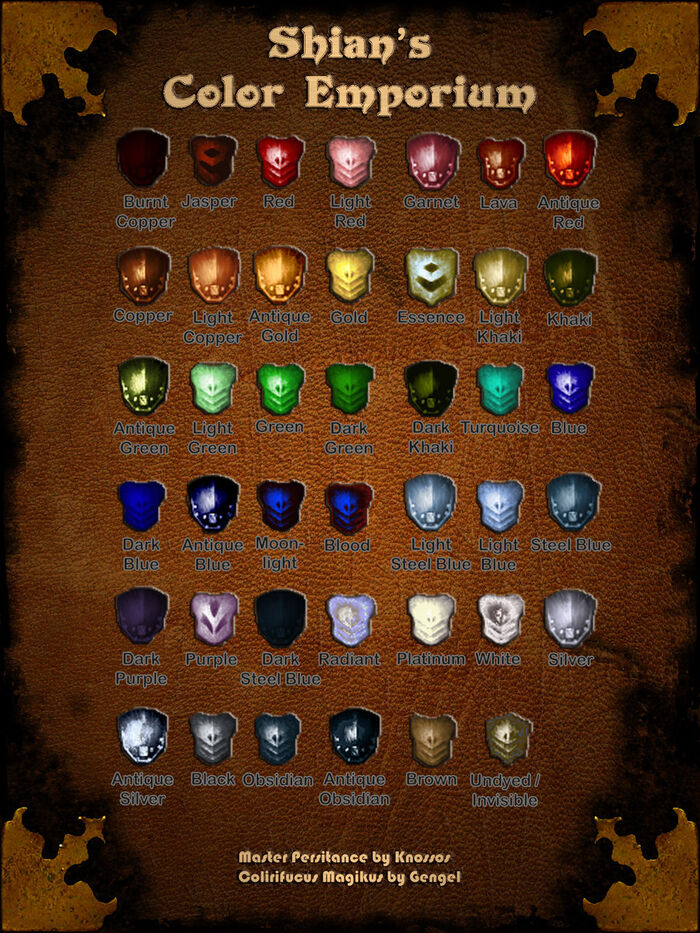 Made by Gengel and Shian (Istaria Forum Link "Dye Kit Color Guide)