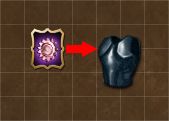 This form of
Techniques
are used in the so-called "Drag and Drop" fashion and do count towards the maximum amount of techniques allowed on the item as explained in the the
Techniques
page (exceptions to this rule are the Armor and Scale Dye Kits). To apply a Technique Kit drag and drop it onto the desired item. A once applied techique kit can't be removed! If you want to aquire further Kits that are only given once as quest rewards visit the
Town Marshalls
, they sell the unique and non craftable Kits for
Tokens of Gratitude
. Bought Techniques Kits could only be used if the corresponding quest is solved.
If you want to redye an item, simply drag and drop the desired dye kit onto the item to redye.
Antique: Red, Blue, Green, Gold, Silver, Obsidian
Black
Blood
Blue, Dark Blue, Light Blue
Brown
Copper,Burnt Copper, Light Copper
Essence
Garnet
Gold
Green, Dark Green, Light Green
Invisible
Jasper
Khaki, Dark Khaki, Light Khaki
Lava
Moonlight
Obsidian
Platinum
Purple, Dark Purple, Light Purple
Radiant
Red, Light Red
Silver
Steel Blue, Light Steel Blue, Dark Steel Blue
Turquoise
White
Techniques Kits
Edit
Nil
Trending pages
All items (56)
Community content is available under
CC-BY-SA
unless otherwise noted.